Measuring Soil Moisture
By Doug Peck / July 2019
Doug is the Regional Agronomy Manager for Idaho. Doug has extensive malt barley knowledge and has been with Anheuser-Busch since 1989.
Checking soil moisture is a very critical part of crop production. Eighty percent of your plant health depends on the water that is provided either by rain or irrigation.
There are many devices that you can purchase that will measure soil moisture in order to determine if it is time to irrigate or not. Some devices can connect to your cell phone or tablet and will tell you the moisture conditions of your fields on a continuous basis. These devices are a very good tool for helping control soil moisture and for making sure the plants have adequate moisture.
Even with all of the technology we have today to help determine soil moisture, the one that holds true every time is a shovel or probe and a hand full of dirt. With a little practice, your hand will become the most trusted tool in your soil moisture arsenal.
Below is a chart published by the University of Idaho, it gives a lot of good information on stress points, evapotranspiration, effective root zone by crop, soil moisture holding capacity, and the instructions on testing soil moisture using the ball and ribbon test.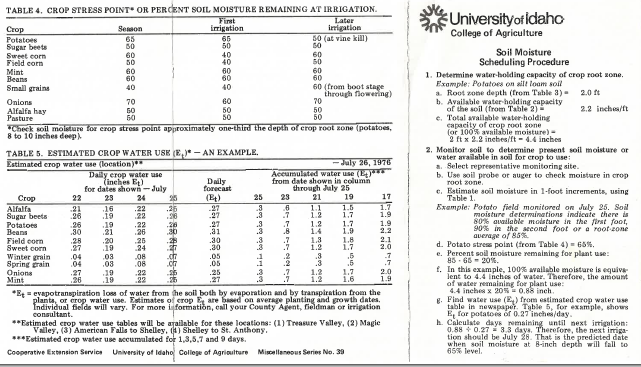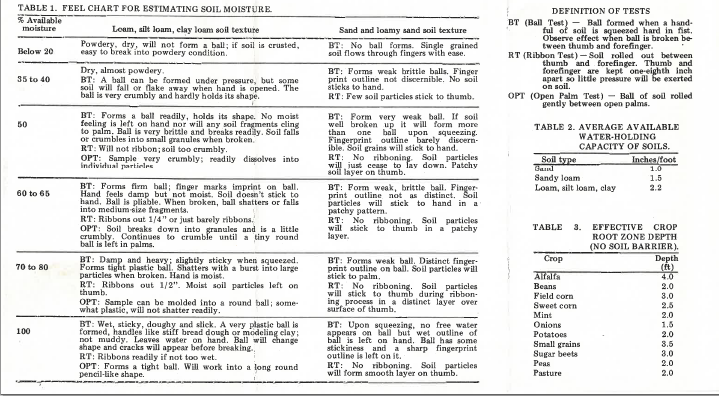 Knowing how to measure soil moisture is important during all phases of malt barley production. If you have questions, please consult your Anheuser-Busch agronomist.
Pamphlet credit:
University of Idaho, Cooperative Extension Services