Barley Crop Staging, Growth & Development
By Meghan Gleason / May 2019
Meghan is a Barley Agronomist based in Fargo, ND. She has a bachelor's degree in Agronomy Management from Illinois State University and has worked for Anheuser-Busch since January 2018.
Having a keen understanding of the phases of crop staging, and growth & development is an essential skill for any agriculturalist. During barley's lifetime from germination through maturity there are several key milestones to note so that optimal malt quality can be met.
Spike: the head of a grassy plant
Awn: a stiff bristle growing from the flower of barley and other grassy plants
Glume: husk containing the spikelet
Stem: the main body or stalk of a plant
Leaves: a flattened high structure, usually blade like, attached to the stem and responsible for photosynthesis and transpiration
Roots: the part of a plant that attaches it to the ground, typically underground, conveying water and nourishment to the rest of the plant via cellular pathways
Crop Staging
Crop staging helps identify various stages of crop development. Proficiency in crop staging allows an agriculturalist to visually identify vegetative and reproductive stages in a crop's life cycle, which in turn helps an grower maximize yields and performance of the crop. Crop staging also helps growers when a crop has reached maturity and is ready for harvest.
When staging barley and other cereal grains two common scales are used, the Zadoks scale and Feekes scale. Both scales measure the maturity of the plant through vegetative and reproductive stages but differ slightly in their metric quantification. For the purpose of this article, only the Feekes scale will be referenced for the remainder of this piece.
Feekes Stages
Feekes 1 Emergence: Seedlings have germinated and begin breaking through the soil crust. During this time, it is important to check for uniformity across the plant stand and determine if it is necessary for future application of herbicides for control of weeds. The main shoot and early leaves are present during this stage.
Feekes 2-3 Tillering: Stages two and three describe a plant which has begun to tiller, meaning the plant is putting auxiliary or side shoots. At the end of stage three the plant will have completed tillering. During this time, it is important to continue to monitor for disease and pest pressures and to take precautionary action as needed. Early fungicides sprays may also be needed at this time.
Feekes 4-5 Green Up: During the "green up" phases the plant begins to grow upright gaining plant mass above and below ground.
Feekes 6-7 Jointing: At Feekes stage six, the first node a, swollen bump will be visible at the base of the shoot. Nodes are areas of active cell division from which leaves and tillers arise. In Feekes stage seven, a second and possibly a third node will be visible approximately six inches above the soil surface.
Feekes 8 Flag Leaf: Approximately five to ten days after the plant has reached Feekes stage seven the flag leaf will emerge signifying that is has transitioned to Feekes stage eight. The flag leaf is the last leaf to emerge and signals the change between vegetative and reproductive growth.
Feekes 9-10 Boot: At Feekes stage nine the flag leaf's ligule is visible. The ligule is a membrane on the inside of the leaf that connects the leaf to the sheath. During this stage, the flag leaf is fully emerged.
During this time, the head will still be encased in the sheath and will begin to swell. Once the head is visible in the leaf sheath directly below the flag leaf the plant has entered Feekes stage ten. Feekes stage ten uses a decimal scale within the stage to describe milestone developments within the boot stage. These subdivisions should be assigned when approximately fifty percent of the field has reached the decimal designation.
10.1 awns visible, heads emerging
10.3 heading half complete
10.5 heading complete, flowering has taken place in the boot
Optimum timing for fungicides to protect against Fusarium Head Blight is in the early stages of Feekes stage ten.
Feekes 11 Ripening: Once flowering begins, pollination will be completed in four or five days. When pollination is complete ripening will begin. Again, in this stage a decimal system is used to distinguish milestone developments.
11 formation of kernels, early milk
11.1 kernels full size, medium milk
11.2 kernel content starchy and readily crushed, leaves drying, glumes yellowing
11.3 kernels semi-hard, leaves dry, nodes yellow
11.4 kernels hard, plant dry
How to Stage Plants
Count the leaves on the main stem
Count the tillers
Count the nodes
Has the flag leaf emerged?
Has boot stage begun?
Has head emergence and flowering occurred?
7. Determine grain development stage
Growth & Development Timeline
The graphic below is a visual representation of the Feekes staging method. It should be used for reference during field scouting and as a tool to help inform product application timings.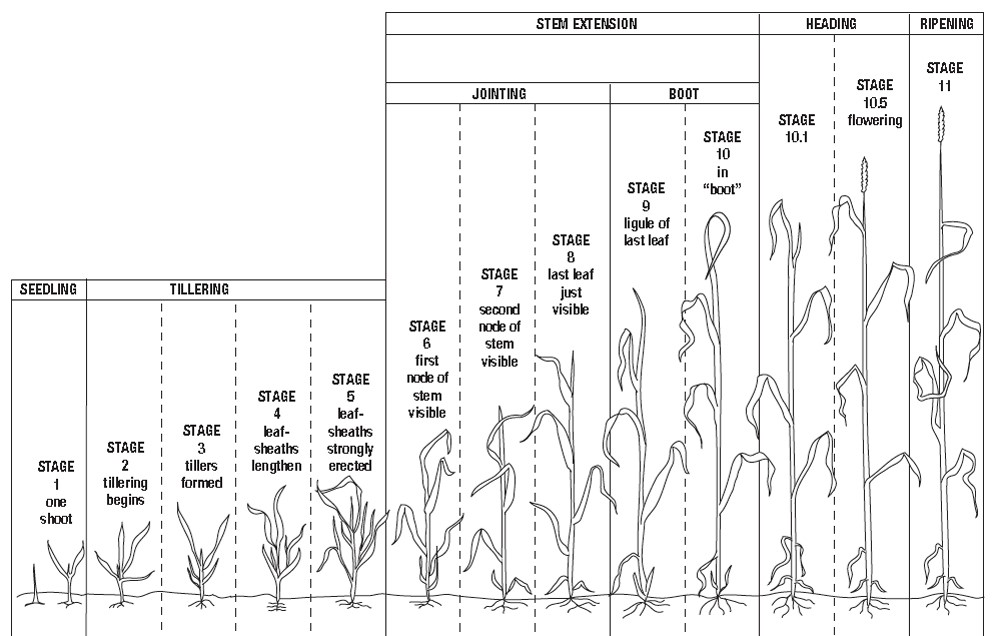 Summary
Understanding the different crop stages is important in making critical crop decisions. If you have any questions regarding your crops current stage, please consult your Anheuser-Busch Agronomist.
A Field Guide to Cereal Staging. A Field Guide to Cereal Staging.
"Managing Wheat By Growth Stage." Purdue Extension,
"Spring Wheat Growth and Development Guide." Extension at the University of Minnesota, extension.umn.edu/growing-small-grains/spring-wheat-growth-and-development-guide.
Wheat Growth Staging Guide. www.delphoscoop.com/images/E0174201/Wheat_Growth_Staging_Disease_ID_Guide.pdf.